ICOA 15 A W
15" Powered Coaxial PA Loudspeaker, White
A genuine all-rounder for full-range, satellite and monitor applications
128 dB max. SPL and 1200 W peak power
Vertical and horizontal use thanks to coaxial design with rotating, BEM-optimised CD horn (Patent pending)
DynX DSP with 4 presets, 3-band EQ and delay function
2 line/mic input channels with individual gain controllers plus mono mix output; Bluetooth® streaming with the BT model
36 mm dual tilt stand attachment with 0° and 5° tilt angle, 55° monitor angle with sturdy stand
Shock-resistant front grille for optimal protection of the speaker
4 aluminium grips with ergonomic, rubber surface
Extensive, optionally available accessories for installation and transport
A genuine all-rounder for full-range, satellite and monitor applications
128 dB max. SPL and 1200 W peak power
Vertical and horizontal use thanks to coaxial design with rotating, BEM-optimised CD horn (Patent pending)
DynX DSP with 4 presets, 3-band EQ and delay function
2 line/mic input channels with individual gain controllers plus mono mix output; Bluetooth® streaming with the BT model
36 mm dual tilt stand attachment with 0° and 5° tilt angle, 55° monitor angle with sturdy stand
Shock-resistant front grille for optimal protection of the speaker
4 aluminium grips with ergonomic, rubber surface
Extensive, optionally available accessories for installation and transport
Description
This full-range loudspeaker impresses with its outstanding sound, even at low frequencies. The ICOA 15 A W by LD Systems is a genuine all-rounder that offers unparalleled features for its class. Its coaxial design, rotating, BEM-optimised CD horn and extensive and precisely calibrated DynX DSP presets make this powered 15" loudspeaker exceptionally flexible.
The outstanding bass reproduction from the horn-loaded woofer makes the LD ICOA 15 A W the ideal choice for musicians, bands, entertainers and dance schools. It also allows DJs to play sets without the need for a subwoofer. Deployed vertically, the speaker impresses as a satellite; horizontally, it's excellent in suspended systems or as a floor monitor. The efficient class-D power amplifier delivers 128 dB max. SPL and 1200 W peak performance. Especially the version with white housing and white front grille blends discreetly and unobtrusively into almost any environment.
Drawing on DynX DSP technology by LD Systems, the speaker delivers perfect performance with maximum clarity and power under all conditions. 4 presets, a 3-band EQ and a delay function facilitate optimal adjustment of the sound to the venue conditions. The 2 line/mic input channels with individual gain controllers, plus mono mix output, allow a variety of signal sources to be connected.
Thanks to its shock-resistant front grille and ideal 55° tilt angle, the LD ICOA 15 A W is also outstanding as a floor monitor. Placed vertically, the 36 mm dual tilt stand attachment offers the choice of a 0° or 5° tilt angle for optimally adapting the system to the local acoustic environment.
Extensive and smart accessories for installation and transport are optionally available. 4 aluminium handles with an ergonomic rubber surface provide optimal grip when carrying the speaker.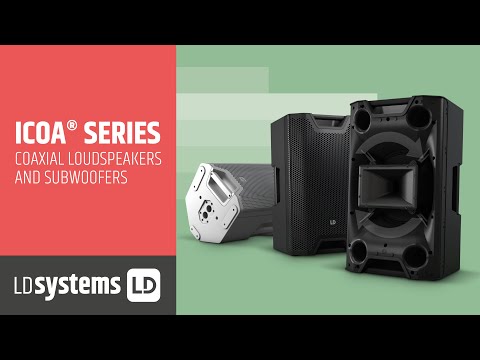 Specifications
Product type
PA loudspeaker
Low/mid Woofer dimensions
15 "
Woofer dimensions (mm)
381 mm
Horn
BEM optimized CD Horn
HF driver dimention (mm)
25.4 mm
HF driver brand
Custom-made
HF driver voice coil
1.4 "
HF driver voice coil
35 mm
Dispersion (H x V)
90° x 50°
Frequency response
48 Hz - 20000 Hz
Crossover frequency kHz
2 kHz
Protection circuits
Multiband limiter, over voltage, over-current, thermal overload
Controls
2 x gain, On / off switch, Rotary/push encoder
Mic-/ Line Input Connectors
6.3 mm jack Combination sockets (symmetrical), XLR
Line input connectors
3.5 mm TRS
Line output connectors
XLR
Ambient temperature (in operation)
0 - 40 °C
Operating voltage
100 V AC - 240 V AC, 50 - 60 Hz
Relative Humidity
< 80 %, not condensing
Cabinet material
Polypropylene
Cabinet construction
Bass Reflex
Mounting
36mm flange (0°, 5°), 6 x M10 flying points
Accessories (included)
Power cord