MAUI 11 G2
Portable Column PA System with Mixer and Bluetooth black
All-in-one column speaker for PA and monitor applications
1,000 watts peak Class-D system power offer high performance with a low weight
Powerful bass reproduction with 3 x 6.5" woofers
Balanced mids thanks to the 8 x 3" full-range speakers
Precise and silky highs with 2 x 1" high frequency drivers
Increased range and wider coverage through the array arrangement
Homogeneous dispersion pattern through a BEM-optimised tweeter wave guide
Distortion-free sound even at the highest volume thanks to LD Systems DynX® DSP technology
Full control through a 4-channel mixer including Bluetooth® Stereo Audio Streaming
Two-piece column for compact transport
Secure plug-and-play connection thanks to the wireless multi-pin mechanism
A wide range of application options through dismountable columns
Easy operation with presets for mono or stereo configuration
Extensive and smart accessories for installation and transport
All-in-one column speaker for PA and monitor applications
1,000 watts peak Class-D system power offer high performance with a low weight
Powerful bass reproduction with 3 x 6.5" woofers
Balanced mids thanks to the 8 x 3" full-range speakers
Precise and silky highs with 2 x 1" high frequency drivers
Increased range and wider coverage through the array arrangement
Homogeneous dispersion pattern through a BEM-optimised tweeter wave guide
Distortion-free sound even at the highest volume thanks to LD Systems DynX® DSP technology
Full control through a 4-channel mixer including Bluetooth® Stereo Audio Streaming
Two-piece column for compact transport
Secure plug-and-play connection thanks to the wireless multi-pin mechanism
A wide range of application options through dismountable columns
Easy operation with presets for mono or stereo configuration
Extensive and smart accessories for installation and transport
Description
A complete sound system that you can carry together with your instrument: introducing the MAUI 11 G2. The two column elements in the padded shoulder bag, the subwoofer in one hand and the guitar or keyboard in the other - and off you go! Setting up the complete system, which doubles as a PA and monitor system is just as easy thanks to the special multi-pin cable plugs. The compact and elegant MAUI 11 G2 offers an unbeatable sound quality and wide-ranging sound distribution. It was developed after years of experience in the design of the column systems as a user-friendly solution for small to medium-sized gigs and fixed installations.
The MAUI 11 G2 is equipped with three 6.5" woofers, eight 3" full-range speakers and two 1" neodymium HF drivers. They are driven by a light Class-D power amplifier boasting 1,000 watts of peak power and producing a grunty bass, balanced mids and precise and silky highs. The DynX® DSP technology from LD Systems provides top-class performance each time and the highest level of freedom from distortion. It includes a multiband limiter which protects against overloading, an EQ, a compressor and a 3-way-crossover with run time correction.
The design of the MAUI 11 G2 line array achieves a longer range, increased resistance to feedback and a wider space coverage, which makes separate monitor speakers superfluous. The wave guide of the tweeters has been developed using the Boundary Element Method (BEM), a numerical simulation of the sound radiation and dispersion. It reduces reflections from the floor and ceiling and prevents sidelobe levels and thus achieves an homogeneous dispersion - Your audience hears you in the back row just as clearly as in the front.
With the integrated 4-channel mixer, system presets for mono or stereo configuration and Bluetooth® Audio Streaming, you have full control over the system. Whether you are a singer-songwriter, solo entertainer or DJ, you will be thrilled with the extraordinary sound and portability of the MAUI 11 G2. The column and the subwoofer can be set up separately: thus, the system is extremely flexible and is also an excellent choice for fixed installations. With a selection of clever transport accessories and special mounting hardware, the MAUI 11 G2 is a well thought out overall solution, down to the last details.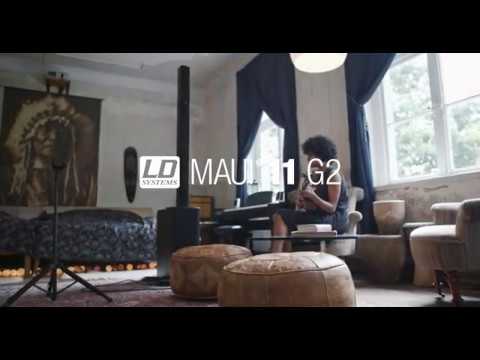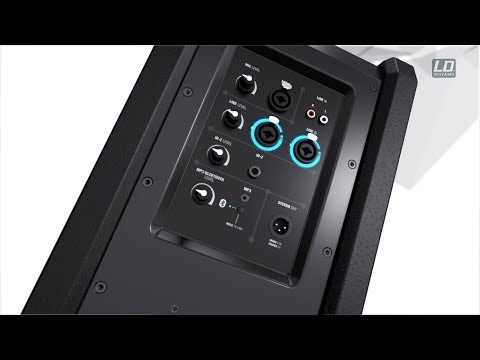 Specifications
Product type
PA Complete Systems
Frequency response
50 - 20000
Dispersion (H x V)
120° x 20 °
Low/mid Woofer dimensions
3 x 6.5 "
Woofer dimensions (mm)
3 x 165.1 mm
Woofer voice coil (mm)
38.1 mm
Cabinet construction
Bass Reflex
Cabinet material
15 mm Plywood
Cabinet surface
texture paint
Midrange dimensions
8 x 3 "
Midrange dimensions (mm)
8 x 76.2 mm
Midrange brand
Custom-made
Midrange voice coil
25.4 mm
Tweeter dimensions
2 x1 "
Tweeter dimensions (mm)
25.4 mm
Tweeter brand
Custom-made
Tweeter voice coil (mm)
25.4 mm
Speaker input connections
Custom-made multipin
Cabinet construction mid/high
Closed
Mid/Hi system cabinet material
Aluminium
Mid/Hi system cabinet surface
HD coating
Mid/Hi system width
96 mm
Mid/Hi system height
620 / 730 mm
Mid/Hi system depth
104 mm
Mid/Hi system weight
5.4 / 2.6 kg
Amplifier module (integrated in subwoofer)
Amplifier output system (RMS)
500 W
Amplifier output system (peak)
1000 W
Protection circuits
DC protection, Multiband limiter, short circuit, thermal overload
Operating Temperature
0 - 40 °C
Humidity Range
10% to 80%, (non-condensing)
Controls
Bluetooth switch, Hi-Z Level, Line level, Main level, Mono/stereo switch, MP3/Bluetooth Level, Power, Sub level
Indicators
Limit, mono, On, Protect (protection circuit engaged), Setup, Signal, stereo
Power supply connector
IEC power cable (included)
Power supply
100 - 120 V / 50 - 60 Hz or 200 - 240 V / 50 - 60 Hz (automatic switching)
Power consumption Off / On / Max.
0/11/600 W
Line input connectors
RCA, XLR/6.3 mm jack
Line outputs
1 x direct out
Line output connectors
XLR
Mic inputs
XLR/6.3 mm jack
MP3 input connectors
3.5 mm jack
Hi-Z input connectors
6.3 mm jack
Speaker output connections
Custom-made multipin
Bit depth AD/DA converter
24 bit
Internal sampling frequency
48 kHz
Signal/noise ratio
100 dB