MAUI 44 G2 SUB
Powered 15" Subwoofer for MAUI 44 G2
Powered 15" subwoofer with flow-optimised bass-reflex ports
15" custom-designed woofer with deep bass down to 37 Hz
Preset-Switch for cardioid subwoofer configuration
DynX® DSP technology for distortion-free sound at maximum volume
Automatic set-up detection
Rugged subwoofer housing made out of polyurea-coated birch plywood
Shockproof front grille for ultimate speaker protection
Two ergonomic handles covered in rubber for easy handling
Attachment points for our MAUI® 44 G2 CB castor board
Powered 15" subwoofer with flow-optimised bass-reflex ports
15" custom-designed woofer with deep bass down to 37 Hz
Preset-Switch for cardioid subwoofer configuration
DynX® DSP technology for distortion-free sound at maximum volume
Automatic set-up detection
Rugged subwoofer housing made out of polyurea-coated birch plywood
Shockproof front grille for ultimate speaker protection
Two ergonomic handles covered in rubber for easy handling
Attachment points for our MAUI® 44 G2 CB castor board
Description
Crisper and more powerful bass with additional LDMAUI44G2SUB subwoofer.
With the MAUI 44 G2 SUB subwoofer, you can extend the cardioid characteristics of our professional column loudspeaker series into the bass range.
Well, what does that mean?
Simply position the SUB next to your MAUI® 44 G2 (W) facing the rear direction, press the cardioid button and you will have a quieter and controlled Low-End on the back while still keeping the punch on the front. Low-End frequencies on the back of the system will be dampened by -15 dB. For extra Bass, keep the SUB in the same direction as your MAUI® 44 G2 (W) without pressing the cardioid button.
Setting up the SUB with your MAUI® 44 G2 (W) is straight forward and fast. Thanks to its automatic set-up detection system the SUB immediately switches to FOLLOWER mode as long as no column is attached.
Also recommendable is the protection cover and castor board to make transportation easy and keep the SUB as long as possible free of any touring-damage.
The MAUI® 44 G2 SUB features the same design construction as the MAUI® 44 G2 (W) subwoofer and will be the perfect addition to get your Low-End in control.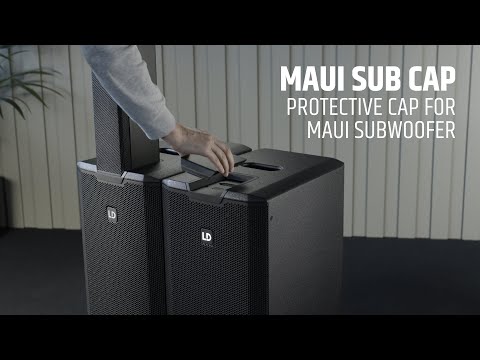 Specifications
Product type
PA Complete Systems Accessories
Low/mid Woofer dimensions
15 "
Woofer dimensions (mm)
381 mm
Woofer voice coil (mm)
101 mm
Protection circuits
Convection, DC, limiter, short circuit, thermal overload
Controls
Bluetooth HOLD TO LINK button, Bluetooth STEREO LINK button, Cardioid On/Off, Main level, Power On/Off, Sub level
Indicators
Bluetooth, Bluetooth STEREO LINK, Cardioid On/Off, Follower mode, Limit, Power, Protect (protection circuit engaged), Signal
Line input connectors
2 x XLR
Line output connectors
2 x XLR
Speaker output connections
Custom-made multipin
Operating voltage
100 - 120 V / 50 - 60 Hz or 200 - 240 V / 50 - 60 Hz (automatic switching), Switching power supply
Operating Temperature
0 - 40 °C
Relative Humidity
< 80% (non-condensing)
Cabinet material
18 mm Birch Plywood
Cabinet construction
Bass Reflex
Bluetooth Audio Decoder
AAC, aptX, SBC
Bit depth AD/DA converter
24 bit
Sampling frequency
48 kHz
Signal-to-noise ratio
106 dB
For a quote on this item, please contact our sales department or make an appointment with our sales representatives.
Adam Hall North America Inc.
sales.us@adamhall.com
+1 973-335-7888