MAUI 5
Ultra-Portable Column PA System with Mixer and Bluetooth
PA and Monitor System in one
Extensive and wide sound dispersion
LECC digital signal processing for controlled, dynamic operation
Integrated 4-channel mixer with Bluetooth
Wide range of connection options
Wireless assembly within seconds
Extremely easy to transport
PA and Monitor System in one
Extensive and wide sound dispersion
LECC digital signal processing for controlled, dynamic operation
Integrated 4-channel mixer with Bluetooth
Wide range of connection options
Wireless assembly within seconds
Extremely easy to transport
Description
The MAUI 5 is an ultra-compact PA and monitor system in one that comes in at just under 11 kg to supply 800 watts peak performance and a maximum sound pressure of 120 dB. The smallest member of the MAUI family is assembled in a matter of seconds thanks to specially developed multi-pin connectors and only four components. It also boasts extensive sound dispersion and high feedback resistance. The MAUI 5 is easy to carry and fits on any car seat.
The bass reflex cabinet of the 8" subwoofer base also houses the system's class-D amplifier unit with protection circuits against overcurrent, overheating and short-circuiting, LD Systems LECC digital signal processing, and a 4-channel mixer. Thanks to built-in Bluetooth© technology for wireless streaming alongside use of the microphone, line and high-impedance inputs, a wide variety of sound sources can be connected to the MAUI 5, including playback devices and instruments, such as keyboards or guitars. Separate level controllers, subwoofer and system volume controllers, and a high-shelf filter for adjusting treble to room acoustics ensure perfectly tuned performances. The MAUI 5 is also available in white (LDMAUI5W).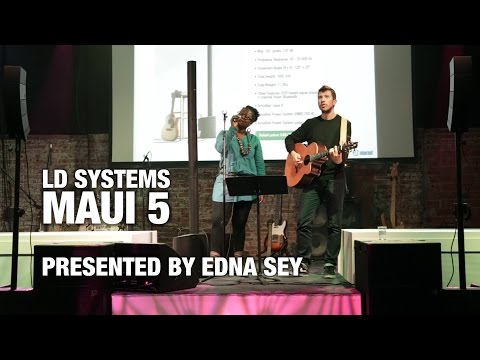 Specifications
Product type
PA Complete Systems
Max. SPL (continuous)
114 dB
Frequency response
50 - 20000
Dispersion (H x V)
120° x 20 °
Other features
4 channel mixer, Bluetooth, DSP-based signal processing
Low/mid Woofer dimensions
8 "
Woofer dimensions (mm)
203.2 mm
Woofer voice coil (mm)
50.8 mm
Cabinet construction
Bass Reflex
Cabinet material
ABS plastic
Midrange dimensions
4 x 3 "
Midrange dimensions (mm)
4 x 76.2 mm
Midrange magnet
Neodymium
Midrange brand
Custom-made
Midrange voice coil
25.4 mm
Mid/Hi system impedance
4 Ohm(s)
Speaker input connections
Custom-made multipin
Cabinet construction mid/high
Closed
Mid/Hi system cabinet material
ABS plastic
Mid/Hi system width
82 mm
Mid/Hi system height
535 mm
Mid/Hi system depth
105 mm
Amplifier module (integrated in subwoofer)
Amplifier output system (RMS)
200 W
Amplifier output system (peak)
800 W
Protection circuits
DSP-based multiband limiter, over-current, short circuit, thermal overload
Controls
BT level, BT pairing, limiter, Line level, Main level, Mic level, MP3 / Hi-Z level, On, Protect (protection circuit engaged), Signal, Sub level
Indicators
Limit, On, Protect (protection circuit engaged), Signal
Power supply
Switching power supply
Operating voltage
100 V AC - 120 V AC, 50 - 60 Hz, 200 V AC - 240 V AC, 50 - 60 Hz (Automatic conversion)
Line input connectors
6.3 mm jack, XLR
Mic inputs
6.3 mm jack, XLR
MP3 input connectors
3.5 mm jack
Hi-Z input connectors
6.3 mm jack
Speaker output connections
Custom-made multipin
Bit depth AD/DA converter
24 / 24 bit
Internal sampling frequency
48 kHz