VIBZ 8 DC
8 Channel Mixing Console with DFX and Compressor
8-channel mixer with 100 digital effects presets
4 microphone channels and 3 stereo line inputs
Sliding adjustable compressor
Master, Monitor and headphone outputs
Securely fastening external power supply
8-channel mixer with 100 digital effects presets
4 microphone channels and 3 stereo line inputs
Sliding adjustable compressor
Master, Monitor and headphone outputs
Securely fastening external power supply
Description
Four balanced microphone inputs with high-quality preamplifiers, mono compatible stereo channels, an integrated compressor and 100 digital effects with 24-bit resolution turn the VIBZ 8 into a flexible sound control unit.
The microphone channels are switchable to line level and are equipped with high-quality preamplifiers and a reduction in bass; two of them also feature inserts for individual signal processing. For an effective sound adjustment, the VIBZ 8 has very precise 3-band EQs with practical selectable mids.
The master section of the mixer features an effects loop, adjustable monitor outputs and a headphone jack. The VIBZ 8 also has inputs and outputs for recording and playback devices, is extremely easy to use and impresses with its transparent and detailed sound. It is ideal for small bands, installations, home recording, and for use as a sub-mixer.
It comes with an external power supply that can be tightly secured to the mixer. A foot switch for the effects section and an adapter for mounting the VIBZ 8 on microphone stands are available as accessories.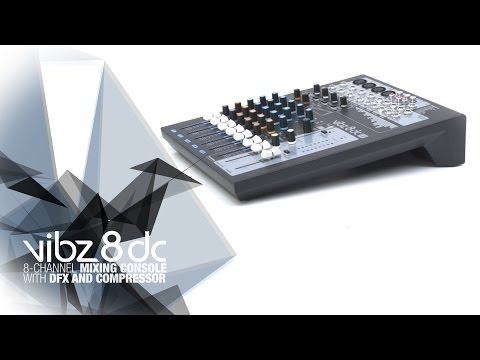 Specifications
Mono Mic and Line Input Channels
4
Mono Mic input connectors
6.3 mm TRS, XLR
Channel Insert Connectors
6.3 mm TRS
Mono Mic Input Type
Electronically balanced
Mono Mic Input Frequency Range
10 - 45000 Hz
Amplification Range mono Mic Input
0 - 50 dB
Mono Mic Input Input THD-N
0.0058%
Mono Mic Input Impedance
4k Ohm(s)
Mono Mic Input S/N Ratio
113 dB
Mono Line Input Type
Electronically balanced
Mono Line Input Frequency Range
10 - 45000 Hz
Amplification Range mono Line Input
0 - 50 dB
Mono Line Input Input THD-N
0.0045 %
Mono Line Input Impedance
21k Ohm(s)
Mono Line Input S/N Ratio
113 dB
Mono Channel Equalizer High
+/- 15 dB @ 12000 Hz
Mono Channel Equalizer Mid
+/- 15 dB @ 2500 Hz
Mono Channel Equalizer Low
+/- 15 dB @ 80 Hz
Controls Mono Mic and Line Input Channels
3-band EQ (High, Mid, Low), AUX (DFX) Post, Channel Volume, Compressor (channel 1+2), Gain, Low Cut (75 Hz), pan
Phantom power
48 V DC switchable
Stereo Line Input Channels
3
Stereo Line Input Connectors
6.3 mm TRS
Stereo Line Input Type
Unbalanced
Stereo Line Input Frequency Range
10 - 45000 Hz
Amplification Range stereo Line Input
0 - 50 dB
Stereo Line Input Input THD-N
0.0045 %
Stereo Line Input Impedance
3,7k Ohm(s)
Stereo Line Input S/N Ratio
116 dB
Stereo channel equalizer treble
+/- 15 dB @ 12000 Hz
Stereo channel equalizer mids
+/- 15 dB @ 2500 Hz
Stereo channel equalizer bass
+/- 15 dB @ 80 Hz
Controls Stereo Line Input Channels
2-band EQ (High,Low), 3-band EQ (High, Mid, Low), AUX (DFX) Post, Balance, Channel Volume, Gain, Low Cut
AUX / Effects Send Channels
1
AUX / Effects Send Connectors
6.3 mm stereo jack unbalanced
Stereo AUX Return Channels
1 x stereo
Stereo AUX Return Connectors
2 x 6.3 mm TRS
Stereo Tape Out Channel
1 x stereo
Stereo Tape Out Connectors
2 x RCA (Cinch)
Stereo Tape In Channel
1 x stereo
Stereo Tape In Connenctors
2 x RCA (Cinch)
Unbalanced stereo Main Outputs
1
Unbalanced stereo Main Output Connections
6.3 mm TRS
Unbalanced Stereo Main Out Impedance
120 Ohm(s)
Max. Unbalanced Stereo Main Out Level
20 dBu
Stereo Control Room Out
1
Stereo Control Room Out Connectors
6.3 mm TRS
Headphones outputs
6.3 mm TRS
Digital Effects Processor
Yes, 24-bit AD/DA Resolution
Footswitch Connector DFX Mute
6.3 mm TRS
Main section controls
DFX Mute Schalter, DFX Presets, DFX To Main Volume, Master Volume, Phantom Power, Phones / Control Room Volume, Stereo Return Volume
Indicators
8-segment Level Meter, Channel Peak, DFX Peak / Mute, Phantom Power, Power
Operating voltage
18V DC - 1 A, External PSU, 230 V