ROADBUDDY 10
Battery Powered Bluetooth Speaker with Mixer and Wireless Microphone
Battery-powered speaker solution
Integrated radio receiver 863 - 865 MHz for license-free operation
Bluetooth player with USB port and SD card slot
Class D power amplifier with 480 watts of peak power
2 combo sockets for microphone or line inputs
Master section with 2-band EQ
Built-in wheels, pull-out handle and fixing for 35 mm tripod mount
Wireless microphone and IR-remote control included
Battery-powered speaker solution
Integrated radio receiver 863 - 865 MHz for license-free operation
Bluetooth player with USB port and SD card slot
Class D power amplifier with 480 watts of peak power
2 combo sockets for microphone or line inputs
Master section with 2-band EQ
Built-in wheels, pull-out handle and fixing for 35 mm tripod mount
Wireless microphone and IR-remote control included
Description
The LD Systems Roadbuddy 10 is an elegant solution for voice and music transmission on the go. The 2-way speaker with a 10" custom woofer and a 1" compression driver is operated with a rechargeable battery for up to 8 hours and is powered by a class D power amplifier with a highly efficient switching power supply and 480 watts of peak power.
The Roadbuddy relies fully on wireless transmission: it has an UHF radio receiver which operates in the license-free 863 - 865 MHz range, and can be expanded with an additional system. The on-board Bluetooth player with backlit multifunction display ,equalizer, USB port and SD card slot supports the mp3, wma and wav formats. A handheld microphone with 10 mW output power(LDRBUD10) or as an alternative a headset microphone with belt pack (LDRBUD10HS) and an IR-remote control for the player are included.
For wired devices, the Roadbuddy has two channels with combo jacks and individual volume controllers that are switchable for microphone and line level, a stereo input via RCA (Cinch) sockets (mono summed) and a 3.5 mm Aux input. Treble, Bass, Echo and Master volume controllers complete the control panel.
The LD Systems Roadbuddy is easily transportable thanks to built-in castor wheels and a pull-out handle. On the top, there is a handy storage compartment for up to two hand-held transmitter microphones. The plastic housing of this lightweight device has been designed to accommodate a 35 mm tripod mount.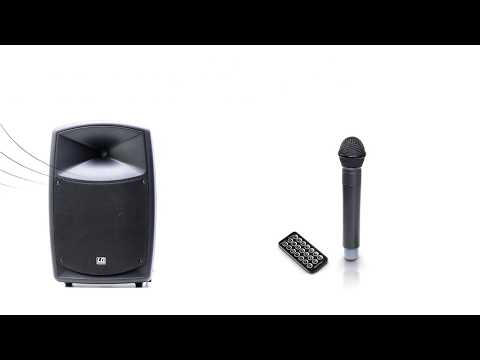 Specifications
Product type
Battery-powered PA speaker
Low/mid Woofer dimensions
10 "
Woofer dimensions (mm)
254 mm
HF driver dimention (mm)
25.4 mm
HF driver brand
Custom-made
Frequency response
55 - 18000
Protection circuits
over-current, overload protection, short circuit
Controls
AUX / MP3 switch, CD / Tape IN Level, Echo, high, low, Mic 1 Level, Mic 2 Level, Total volume
Indicators
Charge/battery status, Power
Supported media
Bluetooth, SD Card, USB stick
Supported formats
MP3 file, WAV-CD, WMA file
Media player controls
equalizer, Mode (Menu / Bluetooth /SD / USB), Next Track, Play / Pause, Previous Track, Repeat, Stop
Media player display elements
Lighted multifunctional LC display
Line input connectors
2 x RCA, 2 x XLR, 3.5 mm jack, 6.3 mm jack
Mic inputs
2 x XLR, 6.3 mm jack
Transmission frequency range
863 - 865 MHz
Frequency Response Wireless Unit
50 - 17000 Hz
Controllers Wireless Unit
ASC, Mute Level (Squelch), Power / Volume, Value Down, Value Up
Indicators Wireless Unit
AF (LED), LED Display, RF (LED)
Connections Wireless Unit
nTNC for receiver antenna
RF Transmitter Power Output
10 mW
Handheld Microphone Weight
0.285 kg
Handheld Microphone Material
Aluminium
Power supply
Switching power supply
Operating voltage
100 V - 120 V / 60 Hz, 220 V - 240 V AC / 50 Hz
Rechargeable batteries
12 V / 5 Ah
Cabinet material
Polypropylene
Cabinet construction
Bass Reflex
Other features
extendable handle, IR Remote for Media Player, Stand mount 36 mm, Transport casters, transport handle
No suitable online shop found? Then search on
Google Shopping
Or find a local dealer: