DQOR 8 T B
8" Two-way Passive Indoor/Outdoor Installation Loudspeaker 16 Ohm, 70/100 V, black
For indoor and outdoor use, IP65 (DQOR 3) and IP55 (DQOR 5 & 8) certified
Corrosion-resistant aluminum front grille
Elegant, dynamic design to suit any environment
Available in black or white
Slide-and-lock wall mount with concealed integrated connections
Superb, balanced sound thanks to a 2-way system
Weather treated paper cone woofer and FerroFluid™-cooled titanium high frequency driver
Wide coverage angle (120° horizontal, 80° vertical)
BEM-optimized waveguide for balanced sound
3", 5" and 8" variants available
Available in two connection variants: low impedance (8 Ohm) or as a 70/100V version with multiple power taps, and can be operated under low impedance (16 Ohm)
For indoor and outdoor use, IP65 (DQOR 3) and IP55 (DQOR 5 & 8) certified
Corrosion-resistant aluminum front grille
Elegant, dynamic design to suit any environment
Available in black or white
Slide-and-lock wall mount with concealed integrated connections
Superb, balanced sound thanks to a 2-way system
Weather treated paper cone woofer and FerroFluid™-cooled titanium high frequency driver
Wide coverage angle (120° horizontal, 80° vertical)
BEM-optimized waveguide for balanced sound
3", 5" and 8" variants available
Available in two connection variants: low impedance (8 Ohm) or as a 70/100V version with multiple power taps, and can be operated under low impedance (16 Ohm)
Description
Encourage your customers and guests to linger for longer with great sound. Thanks to their wide coverage angle and balanced sound, DQOR loudspeakers provide an inviting ambience.
Whether indoors or outdoors, with its elegant, dynamic design in black or white, the 2-way speaker fits harmoniously into any installation. Thanks to the clever slide-and-lock wall mount with concealed integrated connections, there is no need for unsightly cables. To maintain an elegant and smart look on the long term, the front grille is made of corrosion-resistant aluminum.
No restrictions! With a tilt angle of up to 27° and a 45° horizontal swivel angle, DQOR loudspeakers offer flexible positioning to meet your needs.
DQOR loudspeakers can also be used in a distributed sound system with numerous speakers and long cable runs. The DQOR 3T, DQOR 5T and DQOR 8T models are equipped with multitap transformers for 70V/100V systems to minimize power loss. Play background music and announcements at the sound level you want: the output power of each speaker can be adjusted with a power tap. Alternatively, the transformer variants can also be operated at conventional low impedance amplifier outputs. Their 16 Ohm impedance allows the parallel connection of up to eight DQOR loudspeakers at 2 Ohm. DQOR series loudspeakers provide superb sound and the sort of feel-good atmosphere which always puts your customers and employees in a great mood, whether in your shop, your hotel lobby, at a beach bar or on a cruise ship.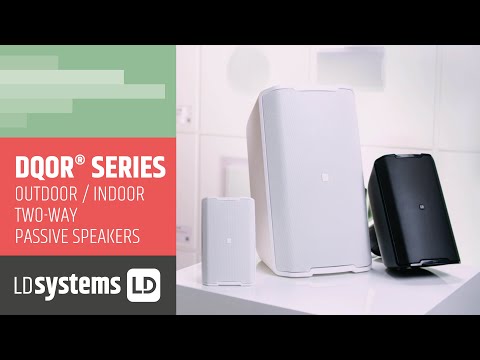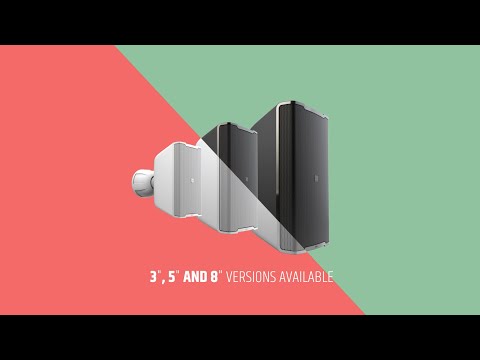 Specifications
Product type
PA loudspeaker
Low/mid Woofer dimensions
8 "
Woofer dimensions (mm)
200 mm
Woofer voice coil (mm)
50.8 mm
Horn
BEM optimized CD Waveguide
HF driver dimention (mm)
25.4 mm
HF driver magnet
Neodymium
HF driver brand
Custom-made
HF driver voice coil
25.4 mm
Dispersion (H x V)
120° x 80° (-6 dB)
Peak power
240 W (>100Hz)
Frequency response
62 - 20000 Hz (-10dB)
Crossover frequency
1800 Hz
Input selector switch
70 V - 100 V - 16 Ohms
100V transformer power (Taps)
120 - 70 - 30 - 15 - 7.5 - 3W
70V transformer power (Taps)
120 - 70 - 30 - 15 - 7.5 - 3W
Speaker input connections
4-pole Terminal Block. Pitch 5.08mm
Cabinet material
ABS plastic
Cabinet colour
Black (RAL 9005)
Accessories (included)
Allen Key for the safety screw, Bracket for surface mount
Optional accessories
LDDQORWMC (rubber cover set for wall mount bracket)
For a quote on this item, please contact our sales department or make an appointment with our sales representatives.
Adam Hall North America Inc.
sales.us@adamhall.com
+1 973-335-7888